MEET RICHARD G. FONFRIAS, J.D.
Money problems solved. Peace of mind protected.
Rich Fonfrias is a respected Financial Rescue and Bankruptcy Lawyer based in Chicago, Illinois. He has practiced law since 1996 and has in-depth experience helping families and business owners overcome serious financial problems.
Rich represents clients in all types of financial emergencies, including creditor lawsuit defense – credit card defense – foreclosure defense – debt elimination, reduction and settlement – tax elimination, reduction and settlement – and loan and mortgage modifications, as well as chapter 7, 11 and 13 bankruptcies.
In 1990, Rich graduated from State University of New York at Stony Brook, where he earned a Bachelor of Arts Degree in Philosophy. In 1996, he graduated from Thomas M. Cooley Law School in Lansing, Michigan, where he earned his Juris Doctor Degree and a position on the Dean's List.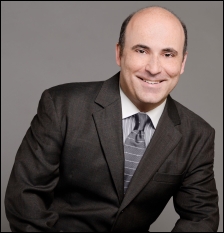 Rich is a member of the the Illinois State Bar Association and the National Association of Consumer Bankruptcy Attorneys. He is admitted to practice before all Illinois State Courts including the Illinois Supreme Court. In addition, Rich is admitted to practice before the United States District Court for the Northern District of Illinois. Rich regularly attends Continuing Legal Education programs sponsored by the National Association of Consumer Bankruptcy Attorneys.
In addition to the wealth of free information and informative articles available on his Chicago law practice's website on a wide range of financial and legal topics, Rich Fonfrias also works in the community, helping those dealing with serious money problems, Rich offers free informational seminars and has appeared on Chicago radio programs where he answers questions on topics like foreclosure, bankruptcy and credit repair. His book, Rich's Common Sense Guide to Erasing Debt & Building Wealth in Tough Times: Insider Secrets & Strategies to Free You From Debt Now and Forever — GUARANTEED!, is a helpful and easy to read guide that explains how to reduce debt and past due bills and build a strong financial future.